Skip to Content
See Our 5-Star Reviews
To Find Out How We've Helped Others.
West Palm Beach Personal Injury Attorneys
Nobody leaves the house expecting to get seriously injured while driving, working, or simply running errands. Unfortunately, accidents are a part of life and happen every day. In fact, the National Safety Council found that an accidental injury occurs every second in the U.S. Every three seconds, someone is fatally injured in an accident. These are staggering numbers.
A serious injury has the potential to wreak havoc on you and your family's life. Depending on the extent of your injuries, you could be facing permanent disability, extensive medical bills, lost wages, and the inability to live life the way you once did. If your injuries were a result of negligence, you have the right to seek compensation that will help you get back on your feet.
At Felice Trial Attorneys, it's our goal to protect the rights of injured victims throughout the state of Florida. Our experience, knowledge of Florida's personal injury laws, and fearless approach to litigation make us a top choice for personal injury attorneys in West Palm Beach. Contact us today at (561) 444-8822.
Form is secure and your info will remain confidential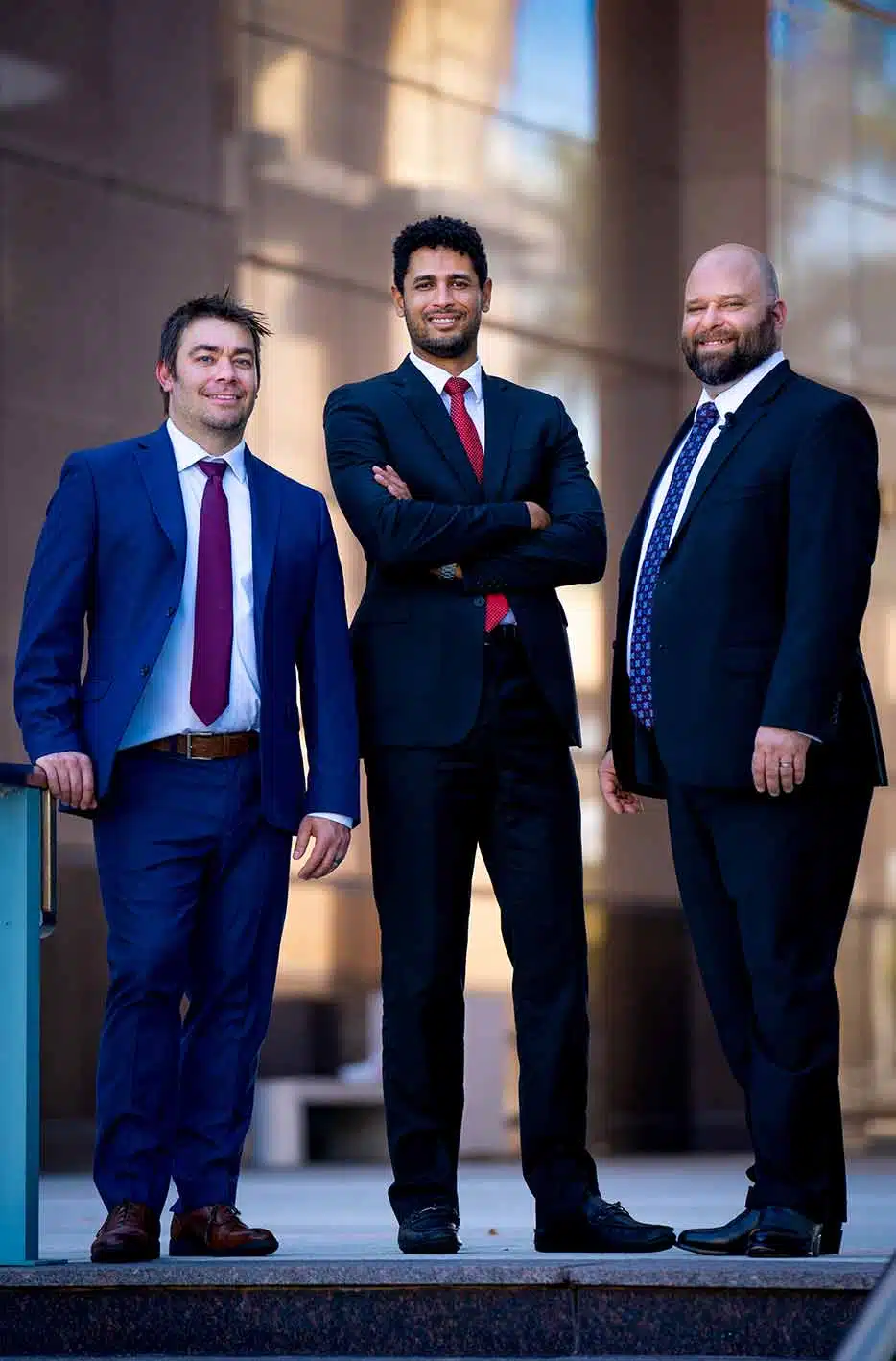 Different Types of Personal Injuries We Handle
It's important to understand that each type of injury requires a different legal approach when seeking damages. Depending on the circumstances surrounding the accident, a thorough investigation might be needed. This could include analyzing medical records, interviewing witnesses, and reconstructing an accident scene.
At Felice Trial Attorneys, we understand what it takes to successfully represent victims of all manner of accidents, including :
Regardless of the type of accident you've been injured in, we make it a point to provide personalized service and keep you informed during each step of the process. We treat each of our clients like family and are happy to come visit you at your home, the hospital, or over the weekend to discuss your case.
Contact us Today
Our Verdicts & Settlements
$5.775M
Confidential Settlement
$2.3M
Confidential Settlement
$1.25M
Florida Auto Accident
Compensation in Personal Injury Lawsuits
Many victims in personal injury lawsuits want to know how much compensation they can expect. This is understandable, especially if an individual isn't able to work or is facing expensive medical bills. While it's difficult to calculate the exact amount of compensation you'll receive, there are conditions that affect the value. These include:
Lost wages – If your injuries have prevented you from working, you may be entitled to compensation for lost wages. This will be based on your average pay rate and the amount of work you've missed or are expected to miss.
Medical bills – You may be able to recover a portion of your bills for medical treatment related to your injury. This compensation will cover current and future treatments.
Funeral costs – If you've lost a loved one and have filed a wrongful death claim, you may be able to recover compensation for expenses related to their funeral and burial.
Disability – You have a right to seek compensation if your injuries rendered you permanently disabled.
Pain and suffering – This involves compensation for both physical and mental anguish you've sustained since the accident. It may also extend to future pain and suffering that interferes with your ability to function normally.
Determining the amount of compensation for something like pain and suffering is difficult to do, as this is considered non-economic damage. In addition, there are regulations on how much compensation can be awarded for these damages. An experienced personal injury lawyer knows how to calculate an appropriate amount to fight for.
Call Today
For a Free Consultation
Comparative Negligence in Florida
In the state of Florida, personal injury cases may be subject to comparative negligence law. Under this law, if you are partially responsible for the accident, the amount of compensation you receive will be reduced. For example, if it's found you are 20% at fault during the accident, the amount of your settlement will decrease by 20%.
This is often seen in auto accident cases. Let's say the liable party caused the accident by making an illegal turn but you were slightly exceeding the speed limit. A judge may decide you were partially to blame for the wreck.
In many personal injury cases, the liable party or their insurance provider may try to claim the victim was more at fault than they actually were. This is an attempt to decrease the amount they'll have to pay. At Felice Trial Attorneys, we're familiar with all the tactics used by insurance agencies to reduce the amount of compensation that victims receive. It is our responsibility to protect our clients from being taken advantage of throughout their lawsuits.
What Our Clients Have to Say
Kelsey Burke is an amazing attorney.. she was very helpful with the both of my cases. She always stayed in touch with me and always kept me updated with was going on every chances she got. Thank you !!
Floridamade D.
First of all I want to thank Mr: Felice for his work to get justice in my case, THANK YOU VERY MUCH. Mr: Felice is a lawyer dedicated to his work and client, there are few lawyers like him, that if he sell or fear the opposing lawyer he goes out to luhar for his client until the end without surrendering for a second. So, if someone needs a lawyer, I immediately recommend him and his entire team to work for me personally in Palm Beach County and all of Florida. Will be a pleasure to call him not only my lawyer but my friend too.
God Bless You and you team.
Pedro V.
Tim and Matt are the best of the best. Lawyers that finally care about you. Lawyers that work for you, listen to you. I could not ask for any better. They actually care about you as a person. You're not a $ sign. And the rest of the crew is pretty awesome too. These guys work their butts off.
Karen M.
Very professional. They will bend over backwards for you, and attend to you as promptly as humanly possible. The attorneys are aggressive, and will work for you. I highly recommend these attorneys.
Miguel R.
I'm extremely thankful that Timothy Felice took my case. He worked tirelessly to make sure I received the best of care. I felt confident in his ability to handle the obstacles that came my way. With each difficulty, Tim always found a way to resolve the issues, to my benefit. I'm so grateful, to have met and worked with Tim, his love for the work that he does, is demonstrated in his ability to handle even the most challenging of cases. If you're looking for an attorney who really cares and will invest his time and is exceptional in their field, then Timothy Felice is the one you should have on your side. I will be forever grateful for what he did for me and my family and If I ever need representation, he will be the only I could trust.
Maria D.
Felice Trial Attorneys are a powerful combination. Attorneys who will fight for their clients' rights with proven results. I highly recommend their firm.
Sean D.
Shari was awesome she took her time to explain everything to me and really helped me with everything I really appreciate What she did for me…. Thank you, Shari
Jeff A
Frequently Asked Questions
In the aftermath of a serious injury that occurred as a result of negligence, you need someone in your corner protecting your rights. Filing a personal injury claim on your behalf and building a strong case requires intimate knowledge of the legal process. An experienced personal injury attorney is the only person qualified to do this.
At Felice Trial Attorneys, we have the resources and know-how needed to see your case through from beginning to end. We understand the time-sensitive nature of personal injury claims and will start right away. Our attorneys are willing to do whatever it takes, including:
Obtaining and reviewing police or accident reports
Examining medical records related to your injury
Reconstructing the accident scene to ensure we have the strongest case possible
Gathering and examining the evidence, including photos, statements from witnesses, or videos
Speaking with experts regarding your injuries and the circumstances of the accident
Negotiating with insurance companies for a fair settlement
Fighting for compensation in front of a judge and jury
After sustaining an injury, it's important you seek representation right away. The longer you wait to file a claim, the less chance you have of receiving the compensation you deserve.
One of the first things our personal injury lawyers in West Palm Beach will tell you is that the amount you can recover depends on the circumstances of your case. Most of these events result in physical, mental, emotional, and financial consequences that must be compensated.
If your case qualifies and meets our requirements, our West Palm Beach personal injury lawyer will help you recover the following damages:
Mental anguish
Medical bills now and in the future
Future rehabilitative treatment
Lost wages now and in the future
Physical pain and suffering
Punitive damage
Physical disfigurement, impairment, or disability
Loss of consortium, guidance, or companionship
When you hire our personal injury attorney in West Palm Beach you have someone on your team that has knowledge of the law. The only thing you should take care of is to do complete research on what to know before hiring a Personal injury Attorney. You have four years after the date of the injury to file your claim. If you wait longer than this four-year time period, you will no longer have the legal right to sue. As a result, we encourage you to reach out to our legal team as soon as you can to begin the lawsuit process.
One of the ways you can speed this process along is by taking steps to document all of the following information at the type your injury occurs:
How the injury or accident occurred
Witness information
Reports and when they were given to the proper authorities
Submitting the reports to the proper authorities
Document the injuries along with property damage in photos
Reach out to our West Palm Beach personal injury lawyers to discuss your legal situation before you make a statement to your insurance company (this includes written and verbal statements)
At Felice Trial Attorneys our team is a community-oriented firm that is committed to providing fair and full compensation for any and all accident victims in West Palm Beach. Every case we take on is handled with custom legal strategies, along with a true passion for our clients, along with their cases. We are always focused on making sure our clients can successfully recover the compensation they deserve and we fight diligently to obtain the compensation amount that our clients deserve.
The duration of a personal injury claim can vary depending on various factors, such as the complexity of the case, the severity of the injuries, and the willingness of the parties to negotiate. Some cases may settle quickly, while others may require litigation and take longer to resolve. Consulting with Felice Trial Attorney can give you a better understanding of the potential timeline for your specific case.
In some jurisdictions, even if you are partially at fault for the accident, you may still be able to recover damages. However, the amount of compensation you receive may be reduced based on your percentage of fault. Discuss with us to fully understand the situation of your case.
Call Today
For a Free Consultation